Have questions? Got homework?
Focused content. Reliable information.
General Research. Use our free online resources wherever you are. Discover information from countless subjects, including health and legal concerns, personal finance and investing skills, product safety and quality, and much more.
Student Research. Find the information you need for school projects. We have free resources for students of every age or grade level.
You can access our online resources with your Library card and password anywhere with an internet connection.
If your current card does not include the "P", insert it in front of your number and add extra zeros to make a 6 digit patron number  (ex.: P12345).

Gale, a Cengage Company, partners with libraries around the world to empower the discovery of knowledge and insights.

 

Grandview Library and Washington State Library provide access to reputable, reliable digital content through their partnership with Gale. Make an impact with resources that empower curious minds, turn research into results, and foster lifelong learning.

Click here to search.
| | | |
| --- | --- | --- |
| Global information on topics related to business, economics, education, government, health, international studies, politics, science, social issues, sports, STEM, and more from a variety of sources featuring newspapers, videos and web-only content. | Explore and research people, events and issues across Washington State. This resource contains news from across the state including: Seattle Times, Spokesman-Review, Tri-City Herald, Yakima Herald-Republic, ABC (KOMO), CBS (KIRO), FOX (KCPQ), NBC (KING) and more. | Search more than 30 years of Seattle area history with The Seattle Times Integrated Collection. With coverage from 1985 – current, the Collection contains full-color newspaper pages, individual full-text articles and content only published online. |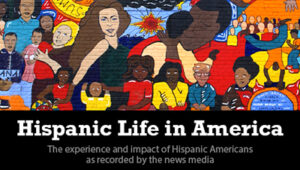 The newest additions to our online databases, Black Life in America and Hispanic Life in America offer patrons an additional collection of voices in print. Excellent for genealogy and school research projects, history buffs, or anyone who wants to hear all voices.​
| | |
| --- | --- |
| Grandview Library provides an intellectual environment with access to books, periodicals, and electronic media, which satisfy the information and entertainment needs of our community while honoring traditions of free speech and inquiry. The library has curated collections for Spanish, local history, and the Cook Art Library. | Raymond Library on the Yakima campus strives to meet additional information needs of YVC students and staff on the Grandview campus. Access to most library databases and the online library catalog is available via the Internet, however, database access is limited to currently enrolled YVC students and staff. |
Additional Databases available to YVC students/staff only: To access the YVC Library subscription databases which are available off campus to currently enrolled students or YVC employees,  your browser must be able to send and receive cookies.
Even more Databases you may find useful: ATSDR Toxicological Profiles — Centers for Disease Control & Prevention (CDC) —  Committee on Earth Observation Satellites (CEOS) — Coronavirus Disease (COVID-19) — U. S. Government Accountability Office (GAO) — Government Printing Office —  National Technical Information Service (NTIS) —  National Traffic Safety Board (NTSB) — PubMed — Voice of the Shuttle — U. S. Census — U. S. Data & Statistics — U. S. Department of Agriculture (USDA) — U. S. Department of Commerce (DOC) — U. S. Department of Defense (DOD) —U. S. Department of Education — U. S. Department of Energy (DOE) — U. S. Department of Health & Human Services (HHS) — U. S. Department of Homeland Security (DHS) — U. S. Department of Housing & Urban Development (HUD) — U. S. Department of the Interior (DOI) — U. S. Department of Justice (DOJ) — U. S. Department of Labor (DOL) — U. S. Department of State (DOS) — U. S. Department of Transportation (DOT) — U. S. Department of the Treasury — U. S. Department of Veterans Affairs