"Reading gives us someplace to go when we have to stay where we are."
  —Mason Cooly, author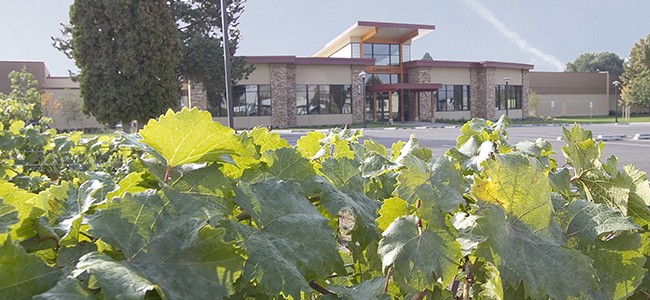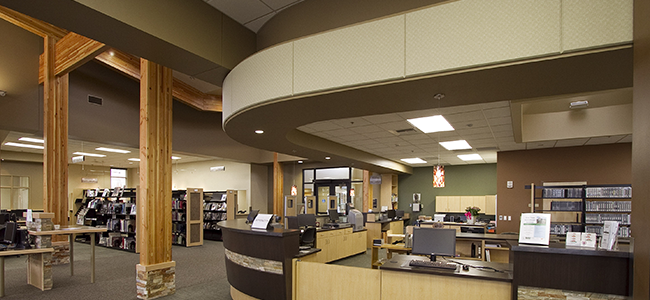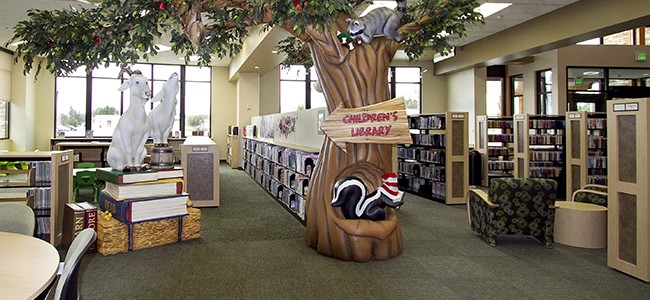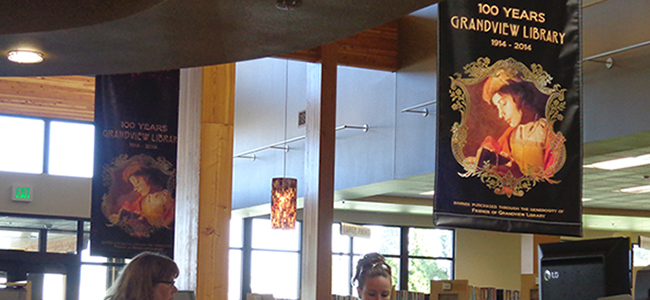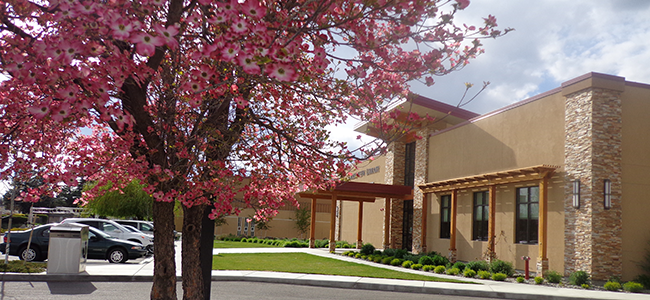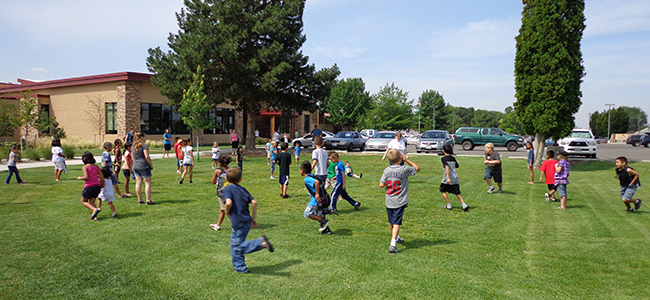 Grandview Library ● 500 W. Main St. ● Grandview, WA ● 98930
(509) 882-7034
CORONA VIRUS (COVID-1

9) NEWS
Temporary Hours Changes: Staff will be available to answer telephone questions or email, Monday-Thursday 9am-6pm and Friday 9am-1pm.
UPDATE MAY 4. Grandview Library will remain closed through May 31.
UPDATE MAY 4. Governor Inslee has extended "Stay Home, Stay Healthy" order to May 31.
"Stay Home, Stay Healthy"
We urge our patrons to return their items to the outside book drop on the south side of the library.
If this is not possible, all fines/fees accrued during this period will be forgiven.

Harry Potter author J.K. Rowling is releasing The Ickabog a new story for young readers, free online, "…so children on lockdown, or even those back at school during these strange, unsettling times, can read it or have it read to them."
Written for readers ages 7 to 9, it will be published in 34 installments beginning May 26 with one installment released every weekday until July 10, and will be published as a book in November. Rowling is pledging "… all author royalties from The Ickabog, when published, to help groups who've been particularly impacted by the [Covid-19] pandemic."
"The Ickabog, is a story about truth and the abuse of power.  To forestall one obvious question: the idea came to me well over a decade ago, so it isn't intended to be read as a response to anything that's happening in the world right now. The themes are timeless and could apply to any era or any country." — J. K. Rowling.
WASHINGTON ANYTIME LIBRARY. 
We would like to remind our patrons they have access to Washington Anytime Library (see link below) which offers access to nearly 50,000 titles as eBooks and/or audio downloads. If you already have a valid library card and password, you only need to download  and install Libby or the OverDrive app to get started. Anytime Library works on both Android and iOS devices or the Libby app can be installed on a personal computer or various eReaders. If you need help setting this up, call the library during the times listed above.
 No library card? No problem!


Take time for yourself. Get a free instant digital card and enjoy OverDrive's vast digital collection.
Washington Anytime Library is now offering a free Instant Digital Card (IDC) through June 30. All you need is a mobile phone number. If you do not have a Grandview Library account, you will be prompted to sign up for the free digital card.
NEW.  Below is a scrolling display of real time digital checkouts and/or holds as they are placed. If you see something you like, click on the image to be taken to Washington Anytime Library where you can either check it out (if it's available) or place a hold.
Additional resources available to our patrons:
Parents, Educators, and the just plain Curious. Looking for new learning resources?


Checkout Legacy Washington. Relying on  "…original sources at the Washington State Library, the Washington State Archives and heritage organizations across the state", Secretary of State Kim Wyman's office has brought together a collection of  "Extraordinary people, and compelling stories" in one place.
Free TumbleBooks access through August 31, 2020
K-6 children's ebook database
Username: tumble735
Password: books

K-6 math ebook database
Username: tumble2020
Password: A3b5c6

gr 7-12 ebook database
Username: tumble2020
Password: A3b5c6
all ages audio book database
Username: tumble2020
Password: A3b5c6
Romance novels for the older crowd!
Username: tumble2020
Password: A3b5c6
Readers read for a variety of reasons. Sometimes they read for information, sometimes for pleasure or relaxation. Grandview Library is happy to assist on both accounts by hosting the "Fourth Thursday" book discussion group on (yes, you guessed it) the fourth Thursday of the month.(cancelled  until  further notice)A good book discussion group brings together readers of different ages, education and backgrounds, and welcomes all points of view. Join today to add your voice to the mix.

Grandview Herald now available online. If the following password doesn't work, email the library during business hours.
Username:   grandviewlibrary
Password:    Emma
Friends of Grandview Library Offer Limited Edition Wines
Through the Library's partnership with Yakima Valley College and its teaching winery, Yakima Valley Vintners, the Friends of Grandview Library will again offer, for a limited time, custom labeled wines.    Stop by Yakima Valley Vintners on the corner of Grandridge and Wine Country Road in Grandview to pick up a few bottles for your next event.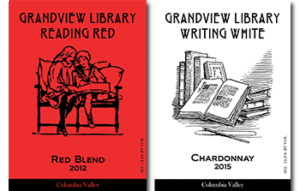 Winery and Tasting Room Hours Friday        2:00-5:00 Saturday   11:00-5:00  
30% of the proceeds from the sale of this wine will go directly to Friends of Grandview Library to be used for library programs.


The 2018-19 Washington Municipal Guide includes municipalities listed by county, selected state and regional contacts, State House of Representatives, State Senate, and U.S. Congress.
Grandview Library, in collaboration with Microsoft Corporation, the Washington State Library, Office of Secretary State and the Washington State Legislature, is proud to provide Washington state residents' with free access to the Microsoft Imagine Academy. Click here or the Microsoft Imagine Academy button for more information.

The Washington State Data Book presents, in one reference document, a diversity of information on Washington, its people, economy, and government. The information is obtained from state and federal agencies as well as private business.
The Data Book contains eleven major sections: Population, Economy, State Government Finance, Human Services, Criminal Justice, Education, Natural Resources, Environment, Energy, Transportation, and Local Government. These sections represent the types of information most frequently requested by a broad range of users. Click here for the complete data book.

Washington residents now have a new way to find, compare and enroll in health insurance. It's called Washington Healthplanfinder, and it gives individuals, families, and small business owners the confidence to choose the plan that best fits their needs and their budget. Washington Healthplanfinder offers:
Apples-to-apples comparisons of health insurance plans
Financial help to pay for copays and premiums
Expert customer support online, by phone, or in-person through a local organization, insurance broker or agent
http://www.wahealthplanfinder.org or for further information http://www.wla.org/sail-resources

The Grandview Library Collection documents the founding and development of the city of Grandview, located in Washington State's fertile Yakima Valley. Local tradition tells us that on a bright Indian summer morning in 1905, two men on horseback, Elza Dean and F.L. Pitman, pulled their mounts to a halt halfway between then new towns of Sunnyside and Prosser. They saw Snipes Mountain rising in the foreground, and the snow-capped peaks of Mt. Adams and Mt. Rainier were outlined against the sky. "It's a grand view!" Read more about our community in the Grandview Library Collection at Washington Rural Heritage a joint project of our library and the Washington State Library, Office of the Secretary of State.
Grandview Library Hours

Monday and Tuesday

   1:00 pm – 7:00 pm

Wednesday and Thursday

   10:00 am – 5:30 pm

Friday and Saturday

   10:00 am – 3:30 pm